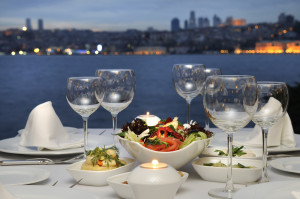 You know just how much hard work goes into creating and maintaining a successful business. However, you also know how rewarding a bar or restaurant can be. During the course of a day you may face many different risks to your commercial property, your customers, and employees. This is why it is so important to take out the best possible restaurant insurance. If you buy the cheapest policy, it might not be giving you the kind of protection you need.
AJS Insurance Services knows how to ask the right questions to determine your particular needs, from Restaurant and Bar Insurance to businesses including cafes, night clubs, and mobile food service and catering companies. We understand the unique needs of your particular industry and will take a close analysis of your risks in order to provide you with solid protection with services including the following:
Liquor liability coverage - do you plan to serve alcoholic beverages to customers? If someone gets into a traffic accident after drinking alcohol at your establishment, you might be sued for damages. Liquor liability covers problems like these.

Business interruption coverage - Reimburses lost income due to downtime associated with a damage or loss claim.

Employee health insurance coverage

Replacement cost insurance - if your business is destroyed by a catastrophe, your insurance may pay you the fair market value of the place. However, this can be a huge problem because it may cost much more than that to rebuild. This is why replacement cost is the best food service insurance option.

Earthquake insurance

Fire liability insurance - what will you do if a fire starts in the kitchen and spreads to other buildings? Fire liability protects you from these legal problems.

Fine art coverage

Equipment breakdown insurance

Flood coverage

Sewer backup insurance

Food spoilage

Sign insurance

Cyber insurance - if a hacker breaches your computers or online information systems and steals your clients' information, Cyber Insurance can protect you against liabilities.