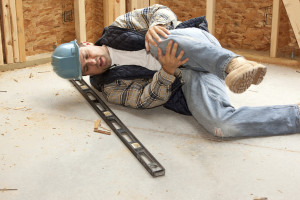 Without a doubt, your business' greatest assets are it's people and keeping them safe and healthy is your top priority. Worker's Compensation Insurance helps keep them cared for in the case of an accident and helps get them back to work quickly, while also protecting you against any potential liabilities. AJS Insurance specializes in Worker's Compensation Insurance, and has experience on both sides of the coin - as a claims manager, adjusting claims as well as being a broker - so we can help you find the policy that fits your exact needs, at competitive prices.
Worker's Compensation Insurance is required by most states, dating back to 1911. There are a whole range of liabilities that need to be covered, like lost wages, injuries and illnesses, coverage outside your normal operating area, and even training for relocation to another area of work should such a need arise. At AJS Insurance we know how important your business and your employees are to you, and we take great pride in putting together a cost-effective Worker's Compensation insurance package that will keep things running smoothly for any type of business, small and large, self-owned and corporate.
The puzzling geography of Worker's Compensation Insurance
The different types and requirements for Worker's Compensation Insurance are vast. Each state is different, and each employer's category has different requirements as set forth by the state's classification code and the company's payroll. Some states require that Worker's Compensation Insurance be purchased through a state fund, some allow for an open market where the state fund is a lesser option. Higher risk occupations such as logging or trash hauling may face higher premiums than lower risk categories like retail. AJS Insurance services can help you truly understand your needs and your policy, your obligations and their factors, and how your premium's spending is valued and divided.
There are things you can do to reduce your premiums. We can take a close look at your business to help you decide which policy is best for you and what steps you might take to reduce your premium costs, while maintaining effective coverage. These things include:
Manage Your Risks

Take Advantage of Saving Opportunities

Be Sure Your Premium is Correctly Figured

Raise Your Deductibles

Try to Avoid Assigned Risk

Coordinate Disability Programs
We also specialize in hard-to-place Worker's Compensation Insurance. Some Worker's Compensation Insurance Providers cover businesses and activities that a standard carrier cannot insure for various reasons including risk, loss ratio, territory, etc. This market can often save you money by avoiding shopping for Worker's Compensation through the State Fund. Many surplus lines include additional incentives that can actually save you time and money, like:
Payroll-Bundled Policies

Preferred X-Mod Ratings

Pre-Approved Class Codes

Pay-As-You-Go Pricing
We are excited to offer a new A+ Rated Program for risk management and coverage for stressed and hard-to-place businesses for Worker's Compensation Insurance and Payroll Services. Minimum premiums vary by industry class code, and by combining Worker's Compensation and Payroll Services we can offer your coverage on a pay-as-you-go basis, with no down payment or audit. This program is available to businesses such as:
Airlines and Flight Schools
Assisted Living and In-Home Care
Auto Repair
Boiler, Hot Water and Steam Fitting
Construction
Concrete
Electrical Wiring
Hazardous Operations - including Hazardous Materials Handling, Logging, Etc.
Janitorial
Manufacturing
Motion Pictures and Entertainment
Nightclubs and Bars
Printing
Restaurants and Fast Food
Swimming Pool Construction
Temp Staffing
Trucking
Etc...
AJS Insurance Services is here to help you understand and obtain the right kind and the right amount of Worker's Compensation Insurance for your business.