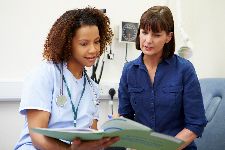 A U.S. government agency on Thursday said Idaho could not allow health insurers to sell plans that do not comply with Obamacare, a sign that the Trump administration will enforce the law even as it takes regulatory actions to weaken it.
Idaho last month told health insurers they could sell plans that did not comply with all of the rules in the Affordable Care Act, former President Barack Obama's signature domestic policy achievement commonly called Obamacare. Those rules include charging sick and healthy people the same rates and requiring that insurers cover a certain set of benefits, such as maternity and newborn care and prescription drugs.
Seema Verma, administrator for the Centers for Medicare and Medicaid Services, in a letter on Thursday said that based on a review, the agency determined that Idaho was failing to enforce the law.
"If a state fails to substantially enforce the law, the Centers for Medicare & Medicaid Services (CMS) has a responsibility to enforce these provisions on behalf of the State," Verma wrote.
The administration is working to offer alternatives outside of Obamacare and to provide states more flexibility to experiment with Medicaid, the government health insurance program for the poor and disabled, and their health insurance markets. Yet Thursday's letter is one of the first signals that the administration will not allow states to violate the law, even though it opposes the healthcare program.
Republicans, who control both chambers of Congress and the White House, repeatedly tried and failed last year to repeal and replace Obamacare. Congress last year repealed the individual mandate, the requirement that most Americans purchase health insurance or else pay a fine, as part of an overhaul of the U.S. tax code.
The Trump administration has instead pursued regulatory rules and actions to weaken the law, such as a proposed measure that would expand the availability of skimpy health plans that do not comply with Obamacare.
Those plans are now allowed for three months or less, but the administration has proposed extending their availability for up to 12 months. It is still determining whether these plans could be renewable.
Verma proposed Idaho pursue other avenues to find ways to offer more affordable health insurance, including through the use of short-duration plans.
(Source: Reporting by Yasmeen Abutaleb Editing by James Dalgleish)
Copyright 2018 Reuters.