A Cleveland-area man was sentenced to seven months in prison Wednesday and ordered to repay nearly $246,000 in disability benefits he fraudulently received from the Ohio Bureau of Workers' Compensation and the Social Security Administration, the BWC said Friday.
Louis C. Cooper, 57, of North Royalton, previously pleaded guilty to wire fraud and theft of government property after investigators discovered him concealing his work as a general contractor. He was sentenced Wednesday in the U.S. District Court for the Northern District of Ohio in Cleveland.
"Acting on an anonymous tip, our investigators discovered Mr. Cooper earned at least $185,000 over the last eight years as a general contractor while telling BWC and Social Security he was too injured to work," said BWC Administrator/CEO Stephanie McCloud.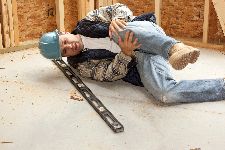 Cooper was injured on the job in 1996. Investigators from BWC and Social Security found he had developed a scheme dating back to at least 2010 to conceal his income as a general contractor by asking his clients to not pay him directly. While reporting to both agencies numerous times that he was too injured to work, Cooper collected nearly $168,000 from BWC and nearly $78,000 from Social Security.
According to court documents, Cooper must surrender to the U.S. Marshals Service on April 18 for transfer to a federal prison. He must serve three years of probation following his release. This case was prosecuted by the U.S. Attorney's Office for the Northern District of Ohio.
Source: Ohio BWC