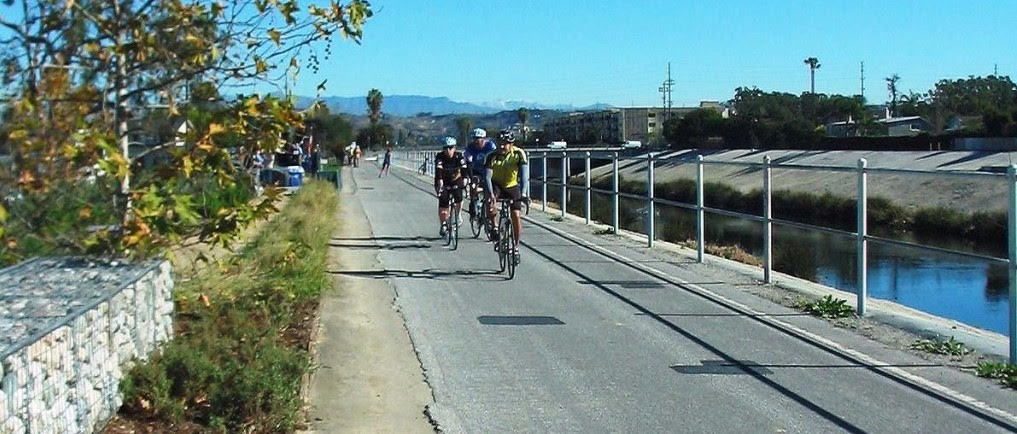 Connecting Creek and Community. 
BCR E-News:

Creek Cleanup, Life Celebration, Bikes, Birds, & More!
Highlights:                                           
BCR's Earth Month Creek Cleanup Moves to

9am-noon, 4/16

!
Bill Rosendahl Celebration of Life,

2pm, 4/16

Walk & Roll Festival, 4/17
Bird LA Day & Migration Celebration at Ballona Freshwater Marsh, 5/7
National Recreation Area Status for the Coast and Ballona Creek? 
Upcoming Watershed Events 
Other Ways to Learn and Help
Pictured above: Bicyclists enjoy the creek and the new Milton Street Park.

BCR'S EARTH MONTH CREEK CLEANUP 
9am-noon

,

Saturday, April 16

, Centinela Avenue bike path entrance (moved from April 9 due to rain).
State Senator Ben Allen-SD26, Ballona Creek Renaissance and Culver City High's BCR Club
welcome your participation in our big Earth Month Zero Waste event! On this revised date, LA City Councilman Mike Bonin will be unavailable to co-host as orginally planned.
Join volunteers of all ages in this fun and worthwhile activity along the estuary in Del Rey, where the inland water and incoming tide meet. You'll experience a special place of water, fish, birds, plants—yet still too much trash and concrete!
(pictured: SGN employees in action in early February!)
It's a great way for students to earn community service credits! As with all creek and coastal cleanups, participants under 18 need waiver forms signed by their parent or guardian.
Wear closed-toed shoes (preferably water-resistant) and sunscreen. Bring your own water in a reusable container. Water also will be available at the event, along with bags, grabbers, gloves, buckets, and educational displays. Arrive by bike or car. Park on Milton Street, Centinela Avenue, or Culver Drive.
For waivers, details, map, and flier, click here! 
A CELEBRATION OF LIFE: BILL ROSENDAHL (1945-2016)
BCR remembers former LA City Councilman Bill Rosendahl as one who loved our community, creek, wetlands, and local native american heritage.
We'd like to share photos from just two of many special events BCR enjoyed with Bill.
In 2013, a special Bill Rosendahl commemorative plaque and plant are installed at the BCR-supported community garden at Mesmer and Beatrice overlooking Centinela Creek.
Pictured with Bill are The Garden's Glenn and Lyndell Martin and Del Rey Residents Association President Elizabeth Pollock.
WALK & ROLL FESTIVAL
9am-1pm, Sunday, April 17, at Culver City Middle School, 4610 Elenda Street, Culver City, CA 90230, (map), presented by Culver City Walk & Rollers (free!).
Have fun learning to bike in the community more safely. Trained instructors will guide you and your kids through the skills course and then take you on a group ride to put your new experience into practice.
All are welcome – bikes, scooters, skateboards, roller skates, training wheels and tricycles too! There's something for everyone! Skills stations, bike checks, demos, goodies, a CulverCity Bus, games, community booths, and more!
If BCR weren't already booked, we'd be there, too!
For lots more good information, a flier, and to RSVP, click here!
BIRD LA DAY & MIGRATION CELEBRATION
9am-2pm

,

Saturday, May 7

, at Ballona Freshwater Marsh, along Jefferson Blvd. at Lincoln Blvd., Los Angeles, CA, Friends of Ballona Wetlands (FBW), with others including BCR.
Enjoy special wild birds from South Bay Wildlife Rehab and one of two expert-led bird walks: at

10am

with Lisa Fimiani of FBW and at

12noon

with Bob Shanman of Wildbirds Unlimited. Plus goodies, giveaways, refreshments, displays, chats, and more with BCR and others–fun for the entire family!
For Migration Celebration directions and details, click here!
For more on Bird LA Day, click here! 
NATIONAL RECREATION AREA STATUS FOR THE COAST AND BALLONA CREEK?

Congressman Ted Lieu (CA-33) has introduced new legislation to explore the expansion of the Santa Monica National Recreation Area southward along the coast to the Palos Verdes peninsula and inland along Ballona Creek through the wetlands to the Baldwin Hills.
On a beautiful March 31st morning in the Ballona Freshwater Marsh, BCR's Jim Lamm joined a gathering of government officials and nonprofits to hear and briefly discuss Rep. Lieu's important announcement. The proposed legislation would initiate a three-year collaborative study. Among the many opportuinities and challenges will be working together toward both recreation and restoration. More details and photos may be found in the Congressman's Press Releaseand on the Friends of Ballona Wetlands blog. Photo via the office of Congressman Lieu (CA-33).
UPCOMING WATERSHED EVENTS
(just a few of many)
Sustainable Works & LADWP's Free LA Green Living Workshops:  Thursdays, April 21, 28, & May 5, 7:00-8:30pm, at Belmont Village Westwood, 10475 Wilshire Blvd, LA 90024
Celebrate Earth Day: Keeping Ballona Beautiful: Saturday, April 23, 9am-noon, Ballona Saltwater Marsh with Friends of Ballona Wetlands
3rd Saturday Bird Walk at Kenneth Hahn: Saturday, May 21, 8am-noon, with LA Audubon
Explore Ballona Wetlands: Saturday, May 21, 10 and 11am tours with MRCA, Fiji Gateway 
See also BCR website's Future Events and Recent Events pages.
.
OTHER WAYS TO LEARN AND HELP
To learn more, check out our BCR video, website,and Facebook Page. And watch for future monthly E-News updates on volunteering, projects, wetlands restoration, local fossil fuel and plastic trash issues, and more!
Pictured: SGN President/COO Josh Yguado helps clean the creek in February.
If you've read this far, please join BCR through a membership donation to help us maintain and build on the positive momentum! To donate and to let us know how you might like to explore a small one-time or ongoing active BCR role, click here!
Finally,  we sincerely thank you for your interest and participation! We look forward to hearing from you or seeing you at an upcoming event.
Join BCR in working together to connect creek and community for a Ballona Creek renaissance!  
BCR E-News Editor Jim Lamm