BCR E-News: Habitat, Birds, Kids, Trains, Bikes, Fish, & More!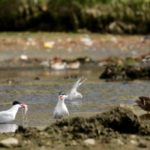 Highlights:                                           
Development vs Habitat in Ballona Creek Estuary
Cleaning the Creek with CA Senator Ben Allen 
A Watershed Morning with Lycee Francais 3rd Graders
Bird LA Day and Hook, Line, & Sinker Project
Fish Die-off in Ballona Creek 
Bike to Rail 
Moving To Polystyrene Packaging Alternatives
Upcoming Watershed Events 
Other Ways to Learn and Help
Pictured above: Terns and ducks feeding at low tide in the confluence of Ballona and Centinela Creeks west of the Marina Freeway (See article below.)
DEVELOPMENT vs HABITAT IN BALLONA CREEK ESTUARY
On Wednesday, May 12, 2016, the Del Rey Neighborhood Council (DRNC) approved with conditions preliminary plans for Del Rey Pointe, a proposed multi-story residential development on privately owned land at the confluence of the Ballona Creek estuary and the Centinela Creek channel just west of the I-90 Marina Freeway overcrossing. This project, aka 5000 Beethoven, now will move forward through a lengthy City of LA planning process, which could take well over a year. For current architectural and landscaping presentations, click here and here!