Exhibitor Tables are Filling Up Fast….1000 Business Contacts Expected at Culver EXPO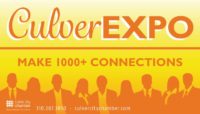 On Wednesday, June 22, 2016 the Chamber will host its annual Culver EXPO. The event to be held at Veterans Memorial Auditorium, 4117 Overland Avenue, Culver City 90230 from 3:30 – 6:30 PM.
If you have a product or service of interest to other Culver City businesses and residents, this is the place to showcase it.
A friendly, festive indoor event, the EXPO offers the public a chance to visit over 100 unique, inventive and fascinating businesses displaying products and services for the home and office.
As one of our most enjoyable events of the year, this exciting day attracts approximately 1000 business connections and has also become known as the biggest annual networking event in the "Heart of Screenland."
This event will be the marketing opportunity for you. We hope you will decide to join us and look forward to your support and involvement.
Deadline to be included in the local newspapers is June 10
Deadline to be an exhibitor is June 17