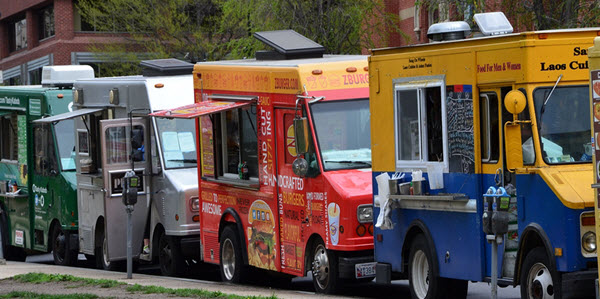 One of the hippest and fastest-growing trends in casual dining is mobile food services – more commonly known as the food truck. Food trucks have experienced explosive growth in the past three years, and the amount of new businesses opening in the past year is up 15%. Outdoor events such as farmer's markets and local pop-ups love food trucks for their ease of setup and quirky homegrown personality, and customers love the quick service and variety of dining options available.
But for insurance companies, the love might not spread so easily. There are a lot of aspects for the owners, agencies, and carriers to consider regarding insurance for a food truck business.
Business auto insurance for when your business is an auto
Food trucks are susceptible to a lot of damage. Auto accidents can occur driving from site to site, fires or electrical breakdowns are more likely when exposed to outdoor conditions, and their mobile nature often makes food trucks a target for theft. Food trucks are fun, but are they fun to insure?
These are all things a carrier needs to consider in their commercial auto insurance quote. On the other hand, an important thing for food truck owners to weigh is that a damaged vehicle means a damaged business; oftentimes a total loss of operational readiness. For this reason, good coverage is essential.
Added mobility means added liability
The mobile nature of a food truck can certainly pose liabilities to customers that may be less likely in other businesses. The street or lot where you park could be primed for a slip-and-fall accident. Proper food storage and serving temperatures are harder to attain on the go, thus the chance for bacteria or cross-contamination is higher. Rarer, but far more dangerous, is the risk of explosion. Propane cooking is hazardous on its own, but when combined with tight quarters and unreliable temperatures, it can be downright treacherous. General liability insurance would be needed and priced accordingly to cover third-party injury and property damages in such cases.
Workers' Comp: A Family Affair
Because so many food trucks hire their family, they often think they are exempt from needing workers' compensation insurance. However, unless the family members are also owners of the business, this is not the case. Additionally, as is true with much part-time work, health insurance coverage is rarely offered to food truck employees, which strengthens the need for worker's comp insurance. Slips, trips, cuts, burns, smoke inhalation, and back injury are all possibilities of injury on an average working day in the food truck business.
Food trucks are very competitive these days, which means profit margins are going to start small – and insurance is often seen by owners as a place to keep costs down. However, insurance agents who truly want to help food truck business to thrive can encourage owners to invest in proper coverage, stressing that their company is subject to even more risks than the average business.
Sources:
https://www.boltinsurance.com/the-business-risks-of-food-trucks/
http://www.riskandinsurance.com/mobile-kitchens-serving-big-risks/
https://www.consumersafety.org/news/food/are-food-trucks-worth-the-risk/