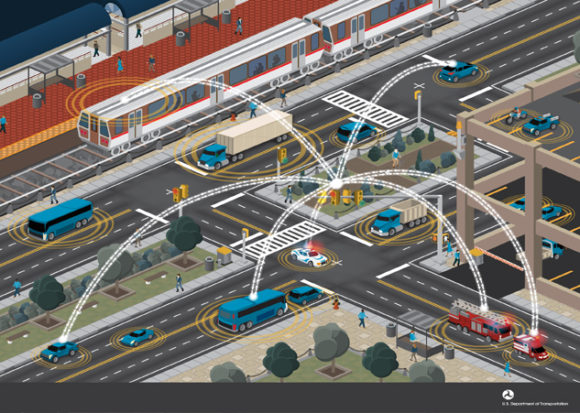 U.S. automobile regulators want passenger cars and light trucks to wirelessly stream data about their movements and monitor other vehicles so they don't crash into each other.
All new light-duty vehicles would be required within four years to be equipped with so-called vehicle-to-vehicle communication systems. The technology will work hand-in-hand with new automated safety devices, such as auto-braking, in another step toward making driverless vehicles a reality, the Department of Transportation said Tuesday.
A word from our sponsor:
How does Western Security Surplus work to your advantage? How do we keep ahead of the competition? And what motivates us to stay there? It comes down to this…
TERRITORY, TECHNOLOGY, AND CRAFTSMANSHIP.
This is the WSS Advantage.
The proposal, which would also require cyber protections on the data stream and include privacy protections so drivers couldn't be tracked, is one of the most ambitious attempts in history at using technology to cut crashes and deaths on the nation's roadways.
"We are carrying the ball as far as we can to realize the potential of transportation technology to save lives," Transportation Secretary Anthony Foxx said.
Foxx, who will leave office in January as the new administration of President-elect Donald Trump arrives, said in a conference call with reporters that the proposal was part of the agency's attempt to promote new technology, including unmanned aircraft and autonomous vehicles.
Members of the public and the auto industry have 90 days to comment on the proposal. The agency will then take that feedback into account as it finalizes regulations. Foxx predicted it would take a year to complete the rule.
The proposal "is a critical step to enabling connected car technologies that promise to improve highway safety and deliver significant lifesaving benefits," John Bozzella, president and chief executive officer of the Association of Global Automakers Inc. trade group, said in a press release. The group represents U.S. divisions of 12 companies including Honda Motor Co. and Ferrari NV.
It will help stem the more than 35,000 deaths a year on U.S. roads, the Self-Driving Coalition for Safer Streets said in an e-mail. "Though fully self-driving vehicles do not require this technology to fulfill their safety potential, it is important that current and future light vehicles continue to improve in the area of crash avoidance," the group's General Counsel David Strickland said.
The U.S. auto industry is reviewing the proposal, Gloria Bergquist, vice president of the Alliance of Automobile Manufacturers trade group, said in an e-mail. The radio technology is currently being tested on roads in Michigan and will be available on some vehicles as soon as 2017, Bergquist said.
Cut Congestion
The highest ranking Democrat on the House Transportation and Infrastructure Committee, Representative Peter DeFazio of Oregon, said in an e-mailed statement the technology would also decrease traffic congestion and create jobs.
The proposal takes the unusual tack of placing a broad mandate on new vehicles but leaves it up to manufacturers to determine what the new systems will do. The regulation is designed to "spark" innovation without limiting developers' ability to design new functions for it, according to the proposal.
The devices are projected to cost as much as $351 per vehicle for components and installation, according to the proposal.
The devices wouldn't be required on existing vehicles, meaning a significant percentage of cars and light trucks on the roads will be invisible to the systems for at least a decade.
National Highway Traffic Safety Administration chief Mark Rosekind, whose agency is overseeing the proposal, predicted there would be growing interest in adding the safety devices to existing vehicles. The technology may soon be available as a hand-held device, just as small-plane pilots can now track nearby traffic with small devices in the cockpit, according to the agencies.
NHTSA and the DOT are still exploring whether to require such technology on larger trucks.
At least half of all newly built light vehicles would have to be equipped with vehicle-to-vehicle technology within two years of regulations taking effect, under the proposal. All such new vehicles would have to have it within four years of becoming final.
Collisions, Curves
Talking-car technology broadcasts radio signals with a range of about 300 meters up to 10 times per second. It can warn about impending collisions at intersections, sharp curves and blind spots. The information stream would, for instance, warn drivers not to change lanes or attempt to pass if there's an oncoming truck.
An agency analysis of two accident scenarios — collisions in intersections and during left turns — found that half of all injuries and fatalities would be prevented with the new technology. Projected nationally, it could cut deaths by as much as 1,080 and injuries by as much as 270,000 a year in just those two examples, according to the agencies.
Drivers would be able to shut off impending-crash alerts in their own vehicles, but the broadcasts to other vehicles would be automatic, according to the proposal.
Stop Signs
At the same time, the administration is preparing similar guidance on so-called vehicle-to-infrastructure communications, Foxx said. This similar technology would set standards for how vehicles could broadcast information to signal lights, stop signs and work zones to smooth traffic and increase safety.
One potential conflict with the new technology still hasn't been resolved: Tech companies want access to the same airwaves, and the  Federal Communications Commission is due to finish tests next month on ways to let that happen.
Automakers back a proposal from Cisco Systems Inc. that would let Wi-Fi gear use the airwaves if the car-safety system isn't operating nearby. Qualcomm Inc. has proposed a rival strategy of restricting basic safety functions to part of the automakers' allotted airwaves, and letting cars and smartphones share on an equal footing elsewhere.
The FCC is "exploring sharing arrangements with consumer devices so long as they do not interfere with vehicle communications," Neil Grace, an agency spokesman, said in an e-mail. "NHTSA's proposal is a step in the right direction for consumers."
Source: Bloomberg